THE BOOK ILLUSTRATIONS BY NADIA LOPUKHOVA: AUTHOR ARTISTIC CONCEPT AND GRAPHIC POTENTIAL
Keywords:
personal visual paradigm, book graphics, graphic style, artistic technique, illustration art, book design
Abstract
Purpose: to present the author's features of Nadia Lopukhova's (1928–2014) illustrative work in the context of the general graphic style of the design of book publications in Ukraine of the corresponding period – second half of the ХХ century.
Methodology involves a comprehensive approach and includes an art analysis of visual sources with the involvement of theoretical, chronological, inductive, comparative, and source studies methods.
Results. The artistic and pictorial specificity of Nadia Lopukhova's illustrative graphics, realized thanks to the involvement of various artistic techniques, methods and practices, as well as due to the author's reinterpretation of literary material and the artistic experience of her predecessors, has been determined. In addition, the main provisions of the artist's personal creative paradigm, which determine her artistic activity and cooperation with publishing houses of Ukraine, are formulated. In view of the above, the artist's artistic contribution to the development of Ukrainian book design is substantiated and promising directions for further research in this field are outlined.
Scientific novelty. In this article, the work of the People's Artist of Ukraine Nadia Lopukhova is considered for the first time as an artistic phenomenon of domestic graphic art, which caused the formation of a special illustrative space, which is an example of a wide range of possibilities for the implementation of a project idea within the personal visual paradigm of one master.
Practical significance. The important conclusions of the research of an applied nature are the classification of the features of the graphic style of Nadia Lopukhova, which demonstrated artistic and figurative transformations during all stages of the artist's creative activity, and the analytical results of the comparison of samples of book products of different years designed by the illustrator.
Downloads
Download data is not yet available.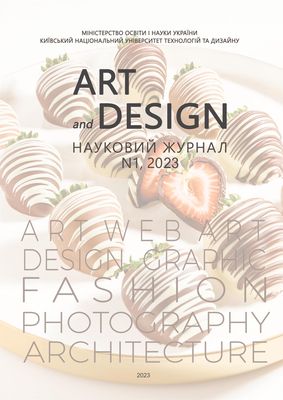 How to Cite
Олійник, В. А. (2023). THE BOOK ILLUSTRATIONS BY NADIA LOPUKHOVA: AUTHOR ARTISTIC CONCEPT AND GRAPHIC POTENTIAL. Art and Design, (1), 135–142. https://doi.org/10.30857/2617-0272.2023.1.13