THE WATERCOLOR HERITAGE OF TETIANA YABLONSKA AS AN EXAMPLE OF MULTIFACETED ARTISTIC SKILLS
Keywords:
Tetiana Yablonska, fine art, coloristics, watercolor technique, graphic works
Abstract
Purpose of the article is to investigate and highlight the pictorial features of Tetyana Yablonska's watercolor legacy as an example of high artistic skill. Pay special attention to the stylistic aspects of the artist's watercolor works in order to actualize interest in her work.
Methodology consists in the application of a complex art analysis and an axiological approach to highlight the value orientations of the artist's creative heritage in Ukrainian fine art.
Results. The features of the author's manner, coloristics and sharpness of the compositional solution in Tetyana Yablonska's watercolors are analyzed. A new stylistics of pictorial means in relation to the graphic artistic language has been revealed. The tools of the artist's professional skill are characterized.
Scientific novelty. Scientists paid more attention mainly to the artist's easel painting. Tetyana Yablonska's graphic works were mostly presented and published in exhibition catalogs, which usually have the least informative component. Therefore, a comprehensive art-critic analysis of the stylistic aspects of Tetyana Yablonska's watercolor works is offered and the high level of her artistic skill is outlined.
Practical significance. The materials of this study can be useful for teaching fine art subjects, be used in monographs characterizing the facets of the artist's creative personality, and become the basis for further analytical activities.
Downloads
Download data is not yet available.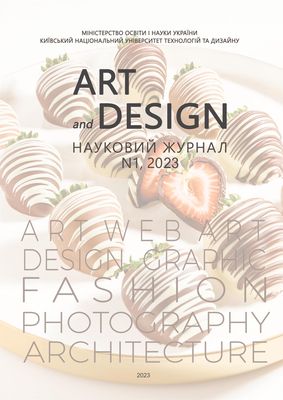 How to Cite
Роготченко, О. О., Юр, М. В., & Зайцева, В. І. (2023). THE WATERCOLOR HERITAGE OF TETIANA YABLONSKA AS AN EXAMPLE OF MULTIFACETED ARTISTIC SKILLS. Art and Design, (1), 157–162. https://doi.org/10.30857/2617-0272.2023.1.15