WAYS TO REVIVAL THE TRADITIONAL MEN'S SHIRT IN MOLDOVA
Abstract
Purpose. Study of the features of the art of the Moldavian men's traditional shirt and the way of its
revival.
Methodology. Artistic and compositional methods, analytical, morphological, thematic-comparative
analysis are used. Results. As a result of the research, the works of ethnographers were studied and an analysis was
made of the evolution and typology of the Moldavian traditional men's shirt. Also, an analysis was
made of men's traditional shirts, created on the example of museum exhibits, as well as in accordance
with local traditions in the organization Șezătoarea Basarabia for 6 years of fruitful work.
The scientificnovelty. An analysis of the main types of Moldovan traditional shirts, the evolution of
the cut is presented, as well as a review of the decorative techniques of traditional embroidery, options
for the composition of ornamental decor on the constituent elements of shirts of various cuts. Authentic
terminology is presented regarding decorative elements and iconic symbols of the ornament, as well
as color aspects used traditionally and in shirts created by members of the Șezătoarea Basarabia
organization over 6 years of work. A gallery is presented with the most expressive exhibits that will
help to reveal the area under study.
Practical significance: In the last decade, interest in national clothes, namely traditional shirts, has
been growing, which, according to the author, will soon require in-depth information about this item
of national costume. The study of form, cut, authentic symbolism in ornamental decoration, traditional
embroidery techniques, color palette, as well as a competent combination of elements of the national
costume is important for the modern generation, as it reveals the depth of the spiritual development
of our ancestors. The study of the features of the traditional costume is necessary for the preservation
of this heritage and its harmonious integration into modern life.
Downloads
Download data is not yet available.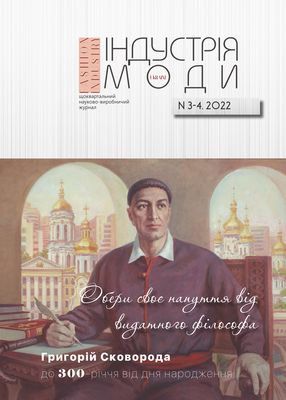 How to Cite
Бизгу, Т. Г. (2023). WAYS TO REVIVAL THE TRADITIONAL MEN'S SHIRT IN MOLDOVA. Fashion Industry, (3-4), 41–52. https://doi.org/10.30857/2706-5898.2022.3.1
Section
Scientific research
License
Copyright (c) 2023 Т. Г. Бизгу
This work is licensed under a Creative Commons Attribution-NonCommercial-NoDerivatives 4.0 International License.