KNITTED MATERIAL FOR THE MANUFACTURE OF HEAT-RESISTANT UNDERWEAR FOR THE MILITARY OF COMBAT VEHICLE CREWS
Abstract
Purpose. To investigate the consumer properties of knitted material produced from flame-retardant
yarn based on flame-resistant meta-aramid fibers and meta-aramid fibers in combination with non-
flammable viscose.
Methodology.  In  order  to  obtain  functional  knitted  materials  that  can  be  recommended  in  the
production of fire-resistant underwear, the methods of analysis and synthesis of scientific and techni cal
literature, as well as standardized methods of researching the structure parameters, relaxation and
breaking characteristics, hygroscopicity, capillarity, vapor and air permeability of knitted fabrics.
Results. Using flame-resistant yarn based on meta-aramid fibers in combination with non-flammable
viscose fibers, a sample of knitted material was developed  and produced on 20 gauge knitting machine.
The developed knitted fabric is offered for the manufacture of heat-resistant underwear and helmet
pads for military personnel of combat equipment crews. In order to determine the compliance of the
proposed knitted material with the requirements for textile materials of the specified assortment gro up,
the following quality indicators were investigated: the behavior and durability of the fabric to the action
of an open fl ame, as well as heat shrinkage at a temperature of 180±5ºС, hygroscopicity, vap or and
air permeability, capillarity, relaxation characteristics, burst characteristics.
Scientific  novelty.  In  the  course  of  experimental  studies,  the  conformity  of  the  consumption
characteristics of the developed sample of knitted material for the production of heat-resistant underwear
and helmet pads was proven. It was found that the direction of action of the fl ame source affects the
nature of the combustion of the textile material. Graphical dependences describing the relationship
between elongation and load when the sample is brought to rupture are obtained. The nature of the
liquid rise during the capillarity study was established.
Practical value. A knitted material has been developed, which is recommended for the production
of functional underwear for military personnel. The introduction of this textile material into industrial
production in Ukraine will contribute to import substitution in the use of materials for fl ame-resistant
underwear and, in general, will improve the level of quality of equipment for military personnel of
combat equipment crews.
Downloads
Download data is not yet available.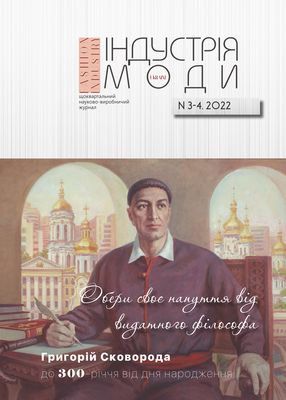 How to Cite
Галавська, Л. Є., Боброва, С. Ю., Дмитренко, Л. А., Прохоровський, А. С., & Харченко, Ю. М. (2023). KNITTED MATERIAL FOR THE MANUFACTURE OF HEAT-RESISTANT UNDERWEAR FOR THE MILITARY OF COMBAT VEHICLE CREWS. Fashion Industry, (3-4), 62–69. https://doi.org/10.30857/2706-5898.2022.3.3
Section
Scientific research
License
Copyright (c) 2023 Л. Є. Галавська, С. Ю. Боброва, Л. А. Дмитренко, А. С. Прохоровський, Ю. М. Харченко
This work is licensed under a Creative Commons Attribution-NonCommercial-NoDerivatives 4.0 International License.