FEATURES OF UKRAINIAN PAINTING IN POST-MODERN DIMENSION
Keywords:
postmodernism, conceptualism, contemporaneous art, contemporary, Ukrainian painting
Abstract
The purpose of the study is to identify the postmodernism principles' influence on formation of the distinctive features of Ukrainian painting in the XXIstсentury. Methodology. The research uses a culturological approach to consider postmodernism as a creative method and factor that influences the activities of Ukrainian artists. Formal-stylistic analysis is applied to clarify the connection between creative practices and the principles of postmodernism and to determine their features as well.Results.The analysis of Ukrainian artists' painting practice of the XXI century in the context of the postmodern worldview was carried out. The study focuses on postmodernism as a factor in the development of various artistic styles. The artistic and stylistic features of painting over recent years in Ukraine were analyzed. There was revealed the natural influence of postmodernist principles on domestic painting, characterized by the features of postmodernism, which is manifested in a variety of areas (conceptualism, transavant-garde, contemporary, etc.) and syncretism in art. Although the latest painting practices are integrating into European culture and tend to the Western European tradition, Ukrainian art still saves its distinguishing features. It was found that a feature of Ukrainian postmodernism is the conceptualization of painting, the introduction of deep content into a new format of painting and the synthesis of traditional fine art and new technologies. Scientific novelty lies in the identification of the main distinctive features and patterns of Ukrainian postmodern painting development. The practical significance. Presented results aid to trace postmodernism as a factor of influence on the peculiarities of the formation of new directions in Ukrainian painting practices, which can be used as a theoretical basis for further art criticism analysis of contemporary painting.
Downloads
Download data is not yet available.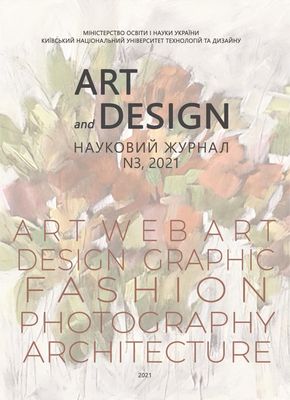 Downloads
How to Cite
Касьяненко, К. М., Янковська, Л. Є., & Сапко, С. Є. (2021). FEATURES OF UKRAINIAN PAINTING IN POST-MODERN DIMENSION. Art and Design, (3), 73–81. https://doi.org/10.30857/2617-0272.2021.3.7