KEY CONDITIONS AND CHARACTERISTICS OF THE AUGMENTED REALITY FORMATION
Keywords:
digital art, multimedia design, AR projects, audiovisual projection, SAR, mixed reality
Abstract
The purpose of the study is to highlight the key conditions of the design of a multimedia system, which are created an augmented reality. The research methodology is based on the use of general scientific methods. The analysis of scientific papers on the topic and the analysis of multimedia which are using like AR projects technologies are aimed at determining the features of augmented reality formation. Results.With the advent of a wide variety of multimedia projects, it is not always clear which of them belong to augmented reality. Some multimedia use only similar technologies, such as projections, but there is no question of augmented reality. On the example of simple and visual projections, as well as other projects, consider at what point the phenomenon of augmented reality occurs. The analysis of publications that consider the augmented reality and determine the place of augmented reality in various continuums is carried out. Has been determined the conditions for the AR formation as a phenomenon. We discuss the importance of the simultaneous presence of virtual data, narrative, and context. There were also indicated the significance of the relevance of virtual data for AR, the indirect influence of interactivity on the context, and the difference between the essence of augmented reality and ordinary digital modification. Various cases of optical and video mixing are considered conventional and 3D projections, 3D mapping, augmented images. It has been proven that the formation of a narrative is a prerequisite for creating augmented reality and the connection between virtual data and context. The scientific novelty of the work consists in in determining the conditions for the formation of the augmented reality and their characteristics. The practical significance of the results lies in the fact that the verification of compliance with the conditions and characteristics helps to separate augmented reality projects from other types of multimedia and other uses of similar technologies.
Downloads
Download data is not yet available.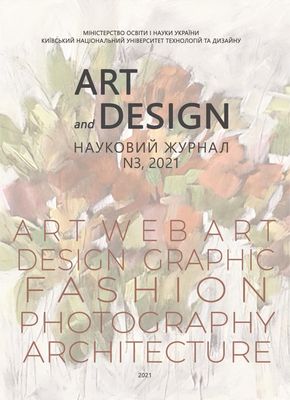 Downloads
How to Cite
Фоміна, К. О. (2021). KEY CONDITIONS AND CHARACTERISTICS OF THE AUGMENTED REALITY FORMATION. Art and Design, (3), 82–95. https://doi.org/10.30857/2617-0272.2021.3.8