AUSTRALIAN OPALS IN THE WORKS OF MODERN UKRAINIAN JEWELLER MAKSYM STOLIAR
Keywords:
Australian opal, Maksym Stoliar, jewelry art of Ukraine, technology and design, goldsmith
Abstract
Purpose. The study is devoted to the art historical understanding of the specifics of the use of Australian opals in the jewelry design of by the modern Ukrainian goldsmith Maksym Stoliar.
Methodology. The work uses art history and artistic and design scientific approaches in combination with comparative and presentation methods.
Results. The article analyses the physical and chemical properties, color range, places of extraction, cutting methods and basic principles of using Australian opals in the design and manufacture of jewelry by the modern Ukrainian goldsmith Maksym Stoliar. The specifics of the formation of the style of the works of this master are highlighted. The analysis of the combination of techniques and materials in the process of creating a master model of products is carried out.
Scientific novelty. The creative path of the national artist and goldsmith Maksym Stoliar is highlighted. The issues of artistic features, stylistics, subject and thematic orientation in the design of his author's jewelry with Australian opals are revealed. The means of further qualitative development and presentation of domestic goldsmithery in the world are characterised. The peculiarities of designing and manufacturing master models for fantasy forms of cutting Australian opals are clarified.
Practical significance. The materials of this study can be reflected in the writing of academic disciplines related to jewelry design. As a source of inspiration, the information provided can be used in the process of creating collections of exclusive jewels.
Downloads
Download data is not yet available.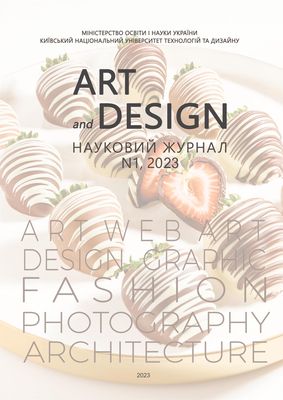 How to Cite
Shmahalo, R. T., Rohotchenko, O. O., Konovalova, O. V., Yur, M. V., & Rudenchenko, A. A. (2023). AUSTRALIAN OPALS IN THE WORKS OF MODERN UKRAINIAN JEWELLER MAKSYM STOLIAR. Art and Design, (1), 45–52. https://doi.org/10.30857/2617-0272.2023.1.4