FEATURES OF INTERIOR DESIGN OF INCLUSIVE PRESCHOOL INSTITUTIONS
Keywords:
design, inclusive space, subject-spatial environment, children with special needs
Abstract
The purpose is determination of the design features of the subject-spatial environment for children with disabilities. Identifying the features and aspects of artistic and color solutions when organizing the modern inclusive space for children with special needs, as well as the feasibility of using special equipment and its location in the space of preschool institutions. Methodology. The research is based on a systematic approach that allows us to consider the architectural environment of preschool educational institutions as a hierarchically subordinate integrity. We also used methods of historical, comparative and typological analysis, and field surveys. Results. The article considers the features of the design of the subject-spatial environment for children with disabilities. Particular attention is paid to the creation of special therapeutic zones when planning premises for children with disabilities. The application of harmonious and expressive artistic and coloristic solutions, as well as taking into account the availability of special equipment and its appropriate placement in an inclusive space are considered. Scientific novelty is to determine the features of the formation of subject-spatial environment of inclusive preschool education and systematization of previous research on this topic. Practical significance is to develop project recommendations for the design of inclusive preschools, determine the compliance of their subject-spatial environment to modern requirements and modern regulations, identify the impact of new trends in the formation of the internal environment of kindergartens for children with special needs.
Downloads
Download data is not yet available.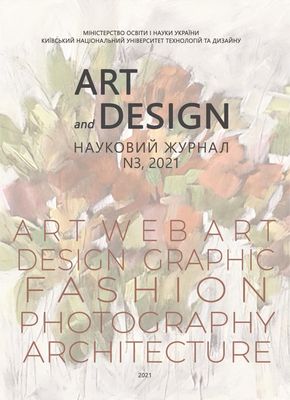 Downloads
How to Cite
Abyzov, V. A., Balanenko, M. R., & Volynets, T. V. (2021). FEATURES OF INTERIOR DESIGN OF INCLUSIVE PRESCHOOL INSTITUTIONS. Art and Design, (3), 21–29. https://doi.org/10.30857/2617-0272.2021.3.2