VIDEODESIGN PRODUCTION: DEFINITIONS, STAGES AND MAIN COMPONENTS
Keywords:
video, videodesign, video production, videodesign production, post-production
Abstract
The purpose of the study is to define the characteristics of the concept of "videodesign production", to analyze the stages of videodesign production and identify their main components. Methodology. The research uses methods of analysis, synthesis, identification, formalization and systematization, which allow us to consider the videodesign production and its stages as hierarchically subordinate integrity. Results. The research of production through the prism of film, video production, cinematographic activity, film production is carried out. The definition of the term "videodesign production" is given. The distinctive characteristics between the terms "video production" and "film production", "videography", "video editing" are revealed. The main stages of videodesign production are established and analyzed, namely: "zero", pre-production, production, post-production, presentation. Their main components are identified. Scientific novelty. The research of videodesign as an independent process of videodesign product production is carried out, the definition of the term "videodesign production", its stages and main components is formulated. The practical significance of the study is due to the expansion and deepening of knowledge about videodesign in terms of its implementation through production. The processed information and materials allowed to determine the leading stages and components of the videodesign production and can be used in further research on videodesign.
Downloads
Download data is not yet available.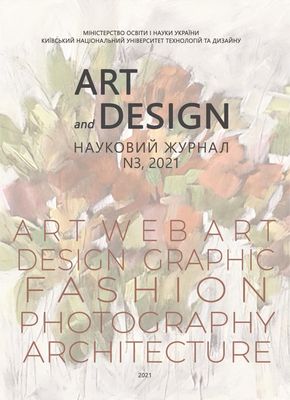 Downloads
How to Cite
Dovzhenko, I. V., Yavorsky, A. L., & Pastarnak, I. A. (2021). VIDEODESIGN PRODUCTION: DEFINITIONS, STAGES AND MAIN COMPONENTS. Art and Design, (3), 54–62. https://doi.org/10.30857/2617-0272.2021.3.5