FASHIONGRAPHICS AND COSTUME DESIGN IN UKRAINE IN THE 1920s
Keywords:
Ukrainian fashion, fashion graphics, fashion magazines, fashion of the 1920s
Abstract
The purposeof the paperis to study the fashion peculiarities in Ukraine based on the analysis of fashion graphics of "Fashion Magazine", which was published in Kyiv and Kharkiv in the 1920s. The events of fashion life in Ukraine are considered in the context of current world fashion trends. Methodology. The methods of historical-chronological and comparative analysis, methods of visual information systematization have been used in the paper. Results. The social conditions for the first specialized fashion publication in Ukraine have been identified.The description of fashion trends of the 1920s has been given based on the analysis of women's clothing models presented on the pages of "Fashion magazine".The analysis of changes in Western fashion during the twenties in the Soviet Union has been carried out.Featured artistic expression means of fashion graphics, compositional solutions of magazine centerfolds have been considered. The connection between popular fashion images and events in the Ukrainian republic has been shown, namely: changes in the women's role in society, the spread of sports, new formats of leisure. The reasons for the transformation of the figurative language of fashion graphics of the early twentieth century have been generalized, the connection of the magazine fashion graphics evolution with the general changes in the world fine arts has been analyzed.The scientific novelty is that there have been introduced the facts of publishing the first domestic magazines on fashion, analyzed the specifics of fashion in Ukraine in the 1920s on the basis of fashion graphics samples from Ukrainian magazines for the first time in the context of Ukrainian fashion history. The practical significance lies in the fact that the information offered in the article fills certain gaps in the Ukrainian fashion history.The practical works of artists who created relevant fashion images in the early twentieth century by means of graphics can be used today both in the process of designing new clothes and in order to promote new costume design ideas.
Downloads
Download data is not yet available.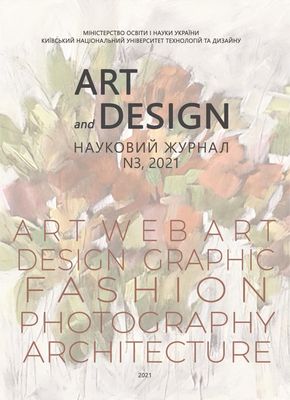 Downloads
How to Cite
Kokorina, H. V., Kudriavtseva, N. I., Baranova, A. I., Haiova, I. L., & Prasol, S. I. (2021). FASHIONGRAPHICS AND COSTUME DESIGN IN UKRAINE IN THE 1920s. Art and Design, (3), 63–72. https://doi.org/10.30857/2617-0272.2021.3.6