MODERN DESIGN OF A COSTUME USING THE ELEMENTS OF TUSHETIAN WOMEN'S CLOTHING
Abstract
Research purpose. The goal of the present paper is to search for ways to model modern youth clothing
and the possibility of forming Georgian ethno-design by modifying and stylizing its elements based on
the study of one of the local complexes of traditional Georgian clothing - Tushetian ethno-costume.
Methodology. The research methodology is mostly based on historical, artistic methods and the
principles of a systematic approach - using analysis, comparison, synthesis and generalization methods, as well as a systematic analysis of design projects created through the associative transformation,
modification and stylization of elements of Georgian cultural heritage. These methods are: literary-
analytical and comparative method of a creative primary source; visual-descriptive methods;
measurement method; the system-structural analysis of artistic and compositional elements, methods
of analogy and modeling.
Results. The study of the issue revealed that Tushetian women's clothing is ethno-costume, distinguished
by its originality, completely difierent from the clothing of other regions of Georgia. Based on the
analysis of design and compositional features, it was revealed that it can be a source of inspiration for
interesting ideas for modern youth models and collections in the creative work of a costume designer.
Using the associative means of adapting Tushetian ethnic costume to the current fashion trends, a
design project of youth models was developed, which can be later realized for a variety of consumers
from the 18-30 age group.
Scientific novelty. Based on the system analysis of the Georgian local ethno complex - Tushetian
women's clothing, the design and compositional features of costume have been identified. Approaches
to the formation of ethnodesign based on Georgian motifs are proposed.
Practical significance. The results of the research make it possible to form the author's approaches
and alternative principles for the development of modern Georgian ethnodesign.
Downloads
Download data is not yet available.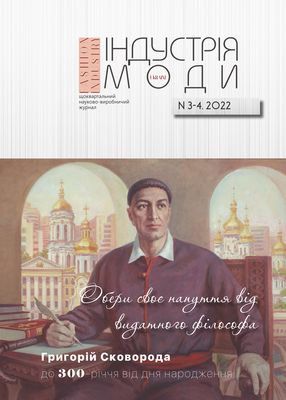 How to Cite
Угрехелідзе, І. І., & Кікнавелідзе, Л. Г. (2023). MODERN DESIGN OF A COSTUME USING THE ELEMENTS OF TUSHETIAN WOMEN'S CLOTHING. Fashion Industry, (3-4), 70–79. https://doi.org/10.30857/2706-5898.2022.3.4
Section
Scientific research
License
Copyright (c) 2023 І. І. Угрехелідзе, Л. Г. Кікнавелідзе
This work is licensed under a Creative Commons Attribution-NonCommercial-NoDerivatives 4.0 International License.