PREREQUISITES OF SHAWL GARMENTS DESIGN USING AUTHOR'S WORKS
Keywords:
shawls, design, author's works, artistic-compositional features
Abstract
The purpose of the scientific research is to determine the preconditions for design of shawls and neckcloth using author's works of Shapoval A. G. Modern methods of historiographical, system-structural and morphological analysis were used to analyze the preconditions for using author's works in the design of shawls. The result is analytical research of creative works of Shapoval A.G. with the aim to distinguish artistically expressive elements of the author's design for the design of aesthetically perfect shawl products. The artistic features and techniques in the work of the author with the subsequent application in design are revealed, attention is focused on the naturalness and harmony of composition and color solutions of works with the purpose of their actualization and rethinking in modern products. The scientific novelty of the work lies in the aesthetic-artistic approach to the design of new models of shawls. Varieties of author's works of illustrator Shapoval A.G. are systematized in different groups. The practical significance of the results is to expand the range of contemporary artistic and compositional developments in the field of designing shawls, as well as the ability to teach future artists-designers the peculiarities of using author's artwork in design
Downloads
Download data is not yet available.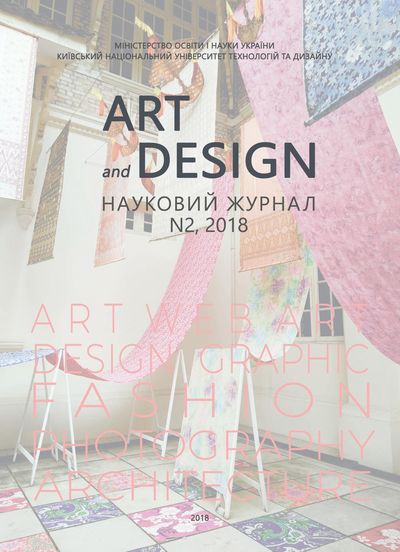 Downloads
How to Cite
Шаповал, А. Г., Остапенко, Н. В., Луцкер, Т. В., Антонюженко, А. Ю., & Авраменко, Т. В. (2018). PREREQUISITES OF SHAWL GARMENTS DESIGN USING AUTHOR'S WORKS. Art and Design, (2), 83–93. https://doi.org/10.30857/2617-0272.2018.2.10