NAIVE ART: FEATURES OF CREATIVE PERCEPTION
Keywords:
naive art, design, primitive, mythology, artistic image, outsider art
Abstract
The purpose of the article is to define the specificity of the concept of "naive", to analyse the peculiarities of the works of art of this direction, their distinctive features on the basis of the visual works of Ukrainian naivists. Methodology. The research methodology is based on the art history analysis, the complex use of historical and comparative methods, system analysis, synthesis and eneralization. Results. The concept of naïve has been defined, its specificity in relation to the related, but not identical terms, such as "primitive art" and "outsider art" has been singled out, and the components of the development of the given tendency have been studied. On the example of Ukrainian naive art representatives, the characteristic features of the artists of this direction were defined. The urgency of the application of artistic images of naive in the realities of contemporary design is underlined. The scientific novelty. The category of artistic and compositional features of this kind of art in the works of Ukrainian naïve artists have been investigated, the characteristic visual techniques of this artistic direction, which are actual for the application in the modern design projects, have been determined. Practical significance. The identified features of the concept of naive, originality of creative implementation of this trend can contribute to the further research of this topical for the design of postmodern art form, and become a part of the discipline of art studies of students-designers to enhance their competitiveness in creating a visual culture of the modern society on the basis of images close to the national mentality.
Downloads
Download data is not yet available.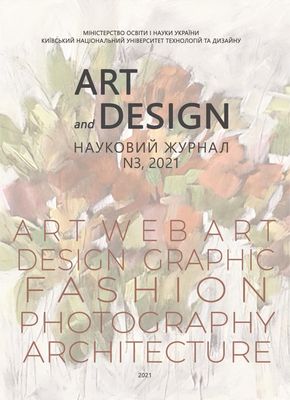 Downloads
How to Cite
Kolisnyk, O. V., & Kovalenko, M. O. (2021). NAIVE ART: FEATURES OF CREATIVE PERCEPTION. Art and Design, (3), 45–53. https://doi.org/10.30857/2617-0272.2021.3.4