TRANSFORMATION OF THE RITUAL GENEALOGICAL PORTRAIT IN PAINTING OF MIKHAILO GUIDA: EUROPEAN CONTEXT
Keywords:
European portrait, man in the model of the world, family, wedding , ritual, Mykhailo Guyda, painting of Ukraine
Abstract
The purpose of the article is to investigate the significance of the European portrait canon in the genre painting by Mikhailo Guida: "Kuban Wedding: Dedication to Great-Grandfather Demian Doroshenko" (2004).
Methodology. The historical-cultural, comparative, iconographic, iconological, and hermeneutic methods are used.
Results. Based on a comparison with compositions on the theme of marriage in the art of antiquity, the Renaissance, and the Modern era, in Guida's painting the following has been identified: the presence of a spiritual centre (icon); the role of symmetry in constructing the ritual composition; the national character of the images and symbols (Ukrainian land, home yard, clothing, flowers, ritual objects). The wedding portrait of the Cossack family was created in the iconography of ceremonial aristocratic portraits, developed by Titian, Tintoretto, Velasquez, Rubens, Van Dyck, and Whistler.
Guida created a new form of portrait and self-portrait in the historical portrait, endowing the image of ancestors with the individual psychology of a person in times of crisis, with its inherent reflection and the desire to understand one's place in the universe. In the composition of the Ukrainian painter, there is a sacralisation of the land and the house-yard through the connection with the universal. The laconic composition plastically corresponds to the definition of the Kuban Cossack family's place in the steppe landscape. The family is shown as a monolithic integrity, which includes horses embodying the energy of nature. The golden ratio of the composition contains the archetype of the cross. The image of the birth-giving earth is revealed by the horizontal of fertile black soil. The family is included in the spiritual vertical of the ritual "axial time" – Axis Mundi. In the connection between heaven and earth, the strength of the Ukrainian lineage and people is affirmed.
The scientific novelty of the publication lies in the fact that, for the first time, a comparison is carried out of the ideological content and the form of Guida's painting with ritual compositions on the theme of weddings and the canon of European aristocratic portraits. The art of the Ukrainian painter is incorporated into the context of European art.
Practical significance. The presented materials, their artistic-stylistic analysis, and generalization can be used in scientific research dedicated to the art of portrait-painting in Ukraine.
Downloads
Download data is not yet available.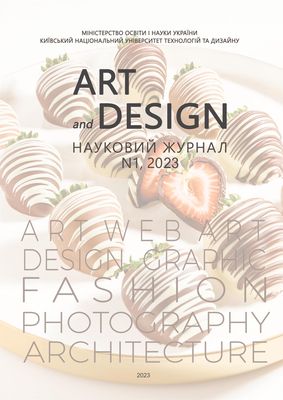 How to Cite
Tarasenko, A. A., & Tarasenko, O. A. (2023). TRANSFORMATION OF THE RITUAL GENEALOGICAL PORTRAIT IN PAINTING OF MIKHAILO GUIDA: EUROPEAN CONTEXT. Art and Design, (1), 53–64. https://doi.org/10.30857/2617-0272.2023.1.5