INNOVATION OF PRACTICAL TRAINING FOR CLOTHING DESINGERS ON THE BASIS OF RESEARCH OF FORMING HISTORICAL COSTUME
Keywords:
professional competence, practical training, reconstruction, design objectives, structure, innovative shaping
Abstract
Determination of the components of practical aspect of the development of design education in order to form the professional competences in the learning process, which will contribute to the development of the creative direction in the solution of design problems, and due to an innovative approach, focused on practical skills development as one of strategic directions of development and modernization of professional creative education in the basis of historical and cultural heritage. Methodology. The literary, analytical, historiographic, analytical-associative, problem-design and system-structural analysis of the formation of the tasks of practical training for clothing designers based on the study of the shaping of historical costume of the XX century has been used; system analysis and classification of original means of constructing a form of clothing designed by famous couturiers of the 20th century; structuring of optimal design tools for the forms of a modern suit, with a view to using it in practical training of specialists. Results. The introduction of innovative means of formation of the modern costume in the practical training of clothing designers, based on the study of the principles of shaping of the historical clothing by famous couturiers of the XX century and implementation of original artistic and structural tools in the reconstruction and design of promising collections of costume, will contribute to the development of creative abilities of future specialists and a significant increase in the level of professional and creative education. Scientific novelty. The analysis of the innovative means of costume shaping based on the study of the artistic and compositional features of the design activity well-known fashion designers of the twentieth century, in order to include the tasks of reconstruction of costume forms in a program of practical training for future clothing designers. Practical significance. The results of the research are used in the development of programs for practical training of future specialists in the field of clothing design, organization and structuring of the practices task and the creation of promising collections for presentation at international and national competitions for young stylist designers.
Downloads
Download data is not yet available.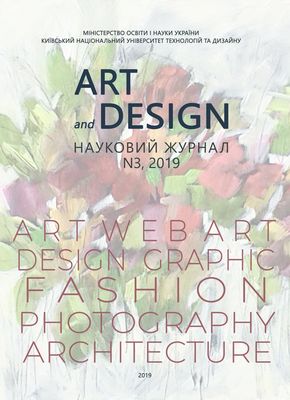 Downloads
How to Cite
Ніколаєва, Т. В., Давиденко, І. В., Баранова, А. І., & Кротова, Т. Ф. (2019). INNOVATION OF PRACTICAL TRAINING FOR CLOTHING DESINGERS ON THE BASIS OF RESEARCH OF FORMING HISTORICAL COSTUME. Art and Design, (3), 125–135. https://doi.org/10.30857/2617-0272.2019.3.13