GRAPHIC FEATURES OF THE ADVERTISING POSTERS OF UKRAINIAN FOLK AND POP MUSIC OF THE SECOND HALF OF THE XX CENTURY
Keywords:
Ukrainian pop music poster, visual language, image-design solutions, stylistics, helvetica, typography, graphic design, Soviet poster
Abstract
The purposeof this work is to identify the characteristics of the visual language of posters of Ukrainian folk and pop music, the search for relevant graphic solutions for further use in modern design. Methodology.The research method is to observe and compare design objects.The study was based on posters of musical events and folk and pop music groups of Ukraine, developed in different stylistic, figurative and design variants and genres.The chronological boundaries of the study are determined by the period of poster art of Soviet Ukraine in the second half of the XX century and the post-Soviet period of the XX century (1960 – 1999). Results.Features of the development of the visual component of music and song posters of the second half of the XX century was divided into several genre trends in the specified time frame.The analysis of the composition, colors, plot, decorative elements and fonts of posters of folk and pop music of Soviet and post-Soviet Ukraine, in order to identify relevant and outdated graphic solutions. Scientific novelty.The analysis of stylistic features of music and song Ukrainian-Soviet posters according to certain features, elements of visual symbols and graphic components is carried out in the work.Relevant and outdated image-design solutions in the design of posters of the second half of the XX century are revealed. Practical significance.The proposed research and the results presented in the articles can be used in scientific works used with further study of the design elements of Ukrainian posters;in the educational process for the study of case studies.
Downloads
Download data is not yet available.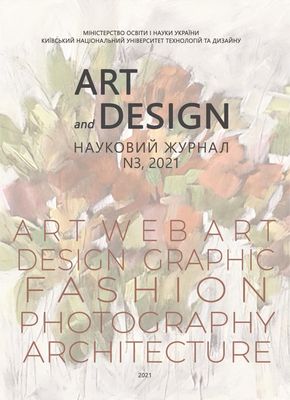 Downloads
How to Cite
Chuprina, N. V., Malysh, D. O., Golovchanska, Y. O., Gerasymenko, D. O., & Mykhajluk, O. Y. (2021). GRAPHIC FEATURES OF THE ADVERTISING POSTERS OF UKRAINIAN FOLK AND POP MUSIC OF THE SECOND HALF OF THE XX CENTURY. Art and Design, (3), 105–113. https://doi.org/10.30857/2617-0272.2021.3.10