WAYS TO INCREASE THE COMFORT LEVEL OF THE MASS PRODUCTION FOOTWEAR
Keywords:
foot, footwear, shoe last, anthropometric parameters, 3d scanning, reverse engineering
Abstract
The complexity of the spatial shape of a shoe last causes a lot of diffi culties in its design. On the other hand, the variety of types and technological features of modern footwear imposes increased requirements on the design process and result. The paper proposes a special method for designing the pad shape based on the results of 3D scanning, taking into account the initial information and the technical requirements. Goal. Development of a reasonable method of designing shoe lasts, taking into account the peculiarities of mass production depending on the technological features of footwear, the necessary requirements and the available initial information. Methods. The method of gypsum casting, 3d-scanning to obtain a digital copy of the foot and shoe
last, the method of synthesis and analysis, the method of reverse engineering to design the shape of a new last`s shape was used for the study.
Results. The paper proves a various initial information necessary for the implementation of the process of designing lasts for diff erent types of shoes using a modern 3D CAD. The study was performed using 3D scanning of the original objects used to design the shape of shoe lasts: shape and parameters of
the foot, shoe sample and plaster cast of the interior, the basic shape of the shoe last, the shape of the anatomical insole, etc. The paper proposes an improved method of footwear last design based on a modern principles of modeling using advanced digital technologies. Practical value. The article contains the algorithm of obtaining and using the necessary information for the development of shoe last parameters for diff erent categories of the population and options for approaching the design of shoe lasts taking into account the design tasks. This algorithm can be used in the fi eld of mass production of footwear, which will improve the consumer properties of a footwear and help to improve the production process of various types of footwear with the eff ective use of modern technologies.
Downloads
Download data is not yet available.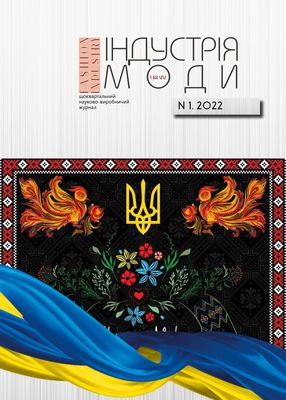 How to Cite
Чертенко, Л., Кернеш, В., Смоленська, Б., Бондар, О., & KNUTD, L. (2022). WAYS TO INCREASE THE COMFORT LEVEL OF THE MASS PRODUCTION FOOTWEAR. Fashion Industry, (1), 20–27. https://doi.org/10.30857.2706-5898.2022.1.1
Section
Scientific research
License
Copyright (c) 2022 Л.П. Чертенко, В.П. Кернеш, Б.І. Смоленська, О.І. Бондар; Library KNUTD
This work is licensed under a Creative Commons Attribution-NonCommercial-NoDerivatives 4.0 International License.