DEVELOPMENT OF KNITTED FABRICS FOR MANUFACTURING OF FUNCTIONAL UNDERWEAR FOR MILITARY SERVICEMEN
Abstract
Development of functional knitted fabrics to improve the properties of underwear for military serviceen. The work applies methods of analysis and synthesis of scientifi c and technical literature in the fi eld of manufacturing of functional knitted fabrics for underwear. Standardized methods for studying the parameters of the structure, changes in linear dimensions after washing, relaxation characteristics, capillarity, and breathability of textile materials (in particular knitwear) were used. The analysis of the market of innovative types of raw materials used in the production of
knitted underwear is carried out. The choice of materials for the manufacture of knitted underwear is provided in accordance with the requirements for the underwear of military personnel. To ensure the
function of removing vaporous moisture from the underwear space, to provide antibacterial action and a high degree of deodorization yarn containing "DEO-W" fi bers were  used. The innovation of these
fi bers consists in the neutralization of all types of human body odor an d preservation of the specifi ed functional properties for up to 10 days of continuous wearing of underwear and the process of 50 washings of fabrics made of them. Within the framework of the Educational Investment and Technological Cluster of Light Industry (which includes KNUTD and LLC "RA.DA"), a plain knitted fabric was produced at PJSC Knitting Factory
"ROSA" on the basis of yarn containing "DEO-W"fi bers with the use of a single jersey circular knitting machine (28 Gauge). Scientifi c novelty. The consumer characteristics of the developed samples of knitted underwear have been studied, namely: the change in linear dimensions after washing, deformation characteristics, capillarity and breathability. The infl uence of the elastomeric  thread upon physical and mechanical characteristics of the knitwear has been proved. Practical value. The developed knitwear samples are recommended to be used in the process of manufacturing of functional underwear for the military personnel. The use of above-mentioned types
of knitted fabrics will help to optimize the microclimate of the body, moisture exchange, rapid drying of the skin during the operation of underwear and, in general, increase the quality level of clothing.
Downloads
Download data is not yet available.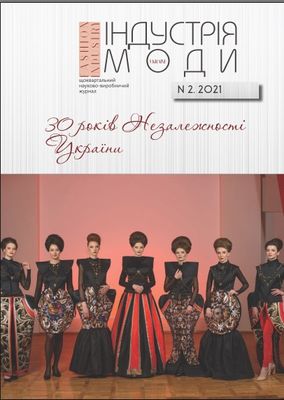 Downloads
How to Cite
Галавська, Л. Є., Єліна, Т. В., Прохоровський, А. С., Швиданенко, О. А., & Котюх, М. В. (2021). DEVELOPMENT OF KNITTED FABRICS FOR MANUFACTURING OF FUNCTIONAL UNDERWEAR FOR MILITARY SERVICEMEN. Fashion Industry, (2), 26–33. https://doi.org/10.30857/2706-5898.2021.2.1
Section
Scientific research