STUDY OF MODERN TRENDS IN INNOVATIVE DESIGN OF HOUSEHOLD APPLIANCES
Keywords:
intelligence analysis, AWE, trend research, product design, home appliances
Abstract
Purpose: to analyze the trends of modern home appliance design innovation through the exhibition scale and theme, industry hot topics, and keywords, based on the design samples of household appliances of the Appliance & electronics World Expo (AWE) exhibition from 2012 to 2021.
Methodology. Using the methods of observation, analysis, synthesis, and generalization, the information about the AWE exhibition has been analyzed, and the characteristics and elements of typical home appliance products in different periods have been studied.
Results: Analyzed the typical product design in China's home appliance industry, and studied the theme, key information and typical cases of the exhibition by tracking the AWE exhibition, integrated the current manufacturing development situation and consumer demand, output the current trend of home appliance product innovation, and provided referenceable suggestions for product innovation design of household appliances.
Scientific novelty: China National Appliance and Consumer Electronics Expo is the authoritative home appliance event in China, from which frontier information such as industry forums or conferences can be obtained. Systematic combing of previous exhibitions can express the stray key information intuitively, rise from practical significance to theoretical logic, clarify the main topics and core contents of the development of home appliances in different periods, and thus explore the innovation trend of home appliances in theoretical perspective.
Practical significance: The study of the development pulse of home appliance design innovation helps to understand the trend of home appliance development in the current social and industry context, providing manufacturing companies with the direction of innovation and transformation, as well as providing a viable reference value for the dynamic form and direction of development in the macro industry development.
Downloads
Download data is not yet available.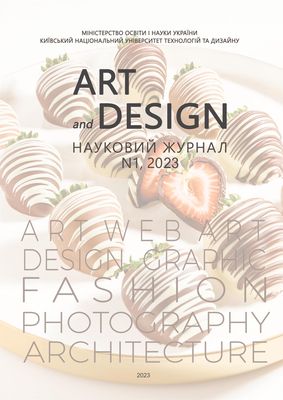 How to Cite
Krotova, T. F., & Yin, J. (2023). STUDY OF MODERN TRENDS IN INNOVATIVE DESIGN OF HOUSEHOLD APPLIANCES. Art and Design, (1), 74–82. https://doi.org/10.30857/2617-0272.2023.1.7