PROTECTION AGAINST HARMFUL ULTRAVIOLET RADIATION: PRACTICAL APPLICATION OF VAT DYES FOR FUNCTIONALIZATION OF COTTON FABRICS
Abstract
Purpose. The necessity of protecting humans from harmful ultraviolet radiation is obvious when faced
with a thinning ozone layer and the growth in the number of cases of skin cancer (melanoma). Summer
protective clothing made from natural fibers can provide optimal comfort for users in ultraviolet
conditions. In the case of using clothing in an area with an extremely high ultraviolet ultraviolet index,
the shielding properties of natural fibers can be enhanced by applying ultraviolet absorbers to the fabric.
Methodology.  Theoretical  and  experimental  studies  are  based  on  the  main  principles  of  textile
materials science. The optical absorption spectra of the textile samples were measured using a UV-
Vis spectrophotometer (Cary 50, Varian, Australia) in accordance with the EN 13758-1:2002 standard
with determination of the ultraviolet protection factor (UPF).
Results. A modern assortment of textile materials capable of shielding ultraviolet radiation while
providing comfortable operating conditions in summer sunny weather has been analyzed. The main
ways of modifying cotton textile materials in order to give them shielding properties against the action
of ultraviolet radiation are considered. New approaches to the use of vat dyes for the functionalization
of cotton textile materials have been proposed. The proposed method of modification with vat dyes
allows obtaining textile materials of difierent colors with excellent protection against ultraviolet radiation
(UPF 50+).
Scientific novelty. Modification with vat dyes is the possibility of dyeing textile materials of any raw
material composition, since the insoluble dye is formed directly in the porous structure of the textile
material. These dyes, unlike many organic compounds, do not destroy under the influence o f ultraviolet
radiation and belong to the most resistant chemical compounds to the action of ultraviolet radiation.
It has been experimentally proven that the use of vat dyes provides a high degree of protection not
only of the fabric itself against the negative effects of ultraviolet radiation, and allows you to create
textile screens that are effective in protecting people from harmful ultraviolet radiation.
Practical value. The proposed method of modification with cube dyes allows to obtain textile materials
of difierent colors with UPF 50+. The UPF 50+ value according to AS /NZ 4399: 1996 indicates the
provision of "Excellent ultraviolet protection" and corresponds to the world's best developments in the
field of textiles for ultraviolet protection.
Downloads
Download data is not yet available.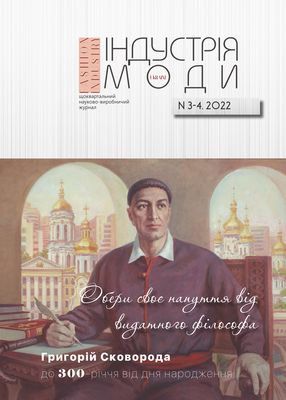 How to Cite
Арабулі, С. І., Власенко, В. І., Труба, А. А., & Арабулі, А. Т. (2023). PROTECTION AGAINST HARMFUL ULTRAVIOLET RADIATION: PRACTICAL APPLICATION OF VAT DYES FOR FUNCTIONALIZATION OF COTTON FABRICS. Fashion Industry, (3-4), 53–61. https://doi.org/10.30857/2706-5898.2022.3.2
Section
Scientific research
License
Copyright (c) 2023 С. І. Арабулі, В. І. Власенко, А. А. Труба, А. Т. Арабулі
This work is licensed under a Creative Commons Attribution-NonCommercial-NoDerivatives 4.0 International License.