ARTISTIC AND STYLISTIC FEATURES OF MODERN BROOCHES
Keywords:
adornments, precious metals, beads, tubular glass beads, enamel, mosaic
Abstract
The development of generalized classification of varieties of adornments (on the example of brooches) in order to create the harmonious images. Methodology. The complex of scientific researches is used, namely: visual analytical method, system and informational method, and method of classifications. Results. The retrospective analysis of the prerequisites for the introduction, formation and development of the forms of brooches and the elements of their decoration is made, and the specificity of means of their artistic expressiveness is studied. The existing types of brooches have been analyzed and summarized. The peculiarities of designing of handmade brooches are described, and the basic materials used for their manufacture are characterized. Scientific novelty. Different types of brooches are classified according to different classification groups. The modern aspects of their use in the context of decoration for "costumes" are revealed. The information about existing types of brooches is summarized, and the features of their designing and manufacturing from different materials are characterized. Practical significance. The information base of various types of brooches is formed, the main and specific features of manufacturing of adornments in the form of brooches is characterized. The basic stages of manufacturing of brooch are illustrated and a bird-shaped adornment is manufactured, which is in line with the fashion trends.
Downloads
Download data is not yet available.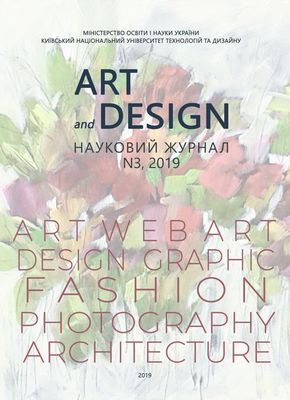 Downloads
How to Cite
Vynnychuk, M. S., Kolosnichenko, M. V., Vydolob, D. V., & Stonoga, D. V. (2019). ARTISTIC AND STYLISTIC FEATURES OF MODERN BROOCHES. Art and Design, (3), 9–19. https://doi.org/10.30857/2617-0272.2019.3.1