SYMMETRY IN THE VISUAL COMMUNICATION DESIGN: METHODS OF DYNAMIC IMAGE CONSTRUCTION
Keywords:
symmetry, dynamic visual communications, image, symmetrical relations, scale invariance, systems approach
Abstract
The purpose of the study is to reveal methods of image creation in dynamic visual communications based on symmetry. Methodology. Research methodology is interdisciplinary. It is based on systems and synergistical approaches. They consider dynamic visual communications as an integral field of interaction between human and environment. We systematized design methods of the image creation of a visual message by using the system and functional, structural and dynamic, composition, artistic and image design-analyses according to the principles of symmetry. Results. We represent symmetry as a method of dynamic visual communications form and image creation. Symmetrical relations are formed at the object structure level (mirror symmetry and central symmetry), the process level (translational symmetry, multilevel central symmetry and radial symmetry) and environment level (scale invariance and recursion). Integrative basis strengthening allows forming the structure of the image content providing fusion with an environment. Rethinking of the design methods on the based on the principles of symmetry increases the efficiency of perception and visual communications dynamic in the context of changeable external conditions. Scientific novelty. In the research we rethought the role of symmetry in dynamic visual communications design based on the systems approach for the first time. It is well-proven that the symmetric transformations support increasing of aesthetic, functional and communicative qualities of dynamic visual information. Practical significance. Research materials can serve as basis for harmonization and optimization of the form and content of different visual communications types. Their image structurization according to the principles of symmetry provides new development strategies of the integrated visual communications. It is important to increase perception efficiency in the conditions of continuously growing information volumes. Researched design methods of visual communications symmetric structures can be used by specialists in order to arrange the modern space. We also use them as the basis for designers' system thinking forming as an educational technology.
Downloads
Download data is not yet available.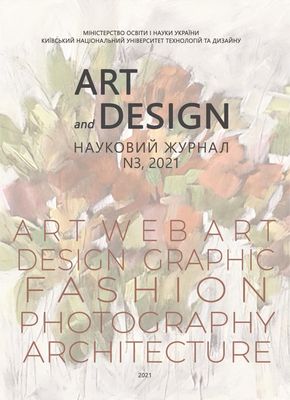 Downloads
How to Cite
Skliarenko, N. V., Gryshchenko, I. M., & Kolosnichenko, M. V. (2021). SYMMETRY IN THE VISUAL COMMUNICATION DESIGN: METHODS OF DYNAMIC IMAGE CONSTRUCTION. Art and Design, (3), 9–20. https://doi.org/10.30857/2617-0272.2021.3.1