DEVELOPMENT OF KNITTED CLOTHES FOR GIRLS WITH DISABILITIES
Abstract
Goal. Development of everyday clothes in modern fashion trends adapted for children with disabilities and the choice of knitted fabric for their manufacturing is the goal of this work.
Methodology. The study of structural characteristics, interlooping, and physical and mechanical characteristics of knitted fabrics were performed according to standard methods. Analytical research methods of existing clothes and conditions of its operation were used for the identification of design features of garments for children with disabilities.
Results. The market analysis of garments for children with disabilities revealed that the Ukrainian market of rehabilitation products has significantly grown, but the products range with special functional and structural elements that provide comfort and independence in performing various household activities is limited. In addition, there is a significant need for fashionable attractive clothing for different occasions in life: leisure, holidays, work; that would have a bright color, promote independence in appearance ensuring, social adaptation, improve well-being, psycho-emotional state and self-confidence. The clothes collection consisting of the most popular women's products: dress, pants, skirt, blouse has been developed within this work. The feature of each model is their interchangeability. These clothes are adapted for children with disabilities and meet fashion trends. Studies of structural characteristics and physical and mechanical properties of knitted fabrics allowed to recommend a plain knit fabric with elastomeric thread for adaptive clothes manufacturing. It is because this fabric structure meets the requirements of air permeability and has got best retains its linear dimensions in the cycle of loading and unloading as well as after repeated wet-heat treatment.
Practical value. The offered products expand the clothes range for children with disabilities and increase their usage convenience. The optimum variant of a knitted fabric is defined on the basis of experimental researches which in a complex will promote the life quality for children with special needs.
Downloads
Download data is not yet available.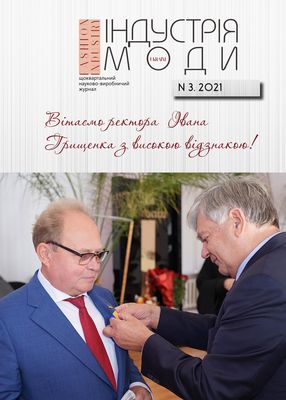 Downloads
How to Cite
Мельник, Л. М., Кизимчук, О. П., & Павлова, А. С. (2022). DEVELOPMENT OF KNITTED CLOTHES FOR GIRLS WITH DISABILITIES. Fashion Industry, (3), 43–51. https://doi.org/10.30857/2706-5898.2021.3.3
Section
Scientific research
License
Copyright (c) 2022 Fashion Industry
This work is licensed under a Creative Commons Attribution-NonCommercial-NoDerivatives 4.0 International License.