THE METHODS COMPARISON FOR DETERMINING THE EXTENSIBILITY OF ELASTIC KNITTED MATERIAL
Abstract
The Investigation and analysis of the deformation characteristics of the elastic fabric, obtained by different test methods, and their dependence on the technological parameters of knitting are the main goals of this paper. Standard test methods according GOST 16218.9-89 and GOST 31509 – 2012 were used to determine the deformation characteristics and elasticity. Results. The results of experimental studies of the deformation characteristics of elastic warp knitted fabric  shows  their  conformity  with  standardized  values,  which  provides  the  necessary physiotherapeutic effect of the final product. It was found that the tensile strength of studied warp knitted fabrics: full deformation and its elastic component depend on investigated input factors of the knitting process both density of weft in-layed yarn and pre-elongation of elastomeric yarn.  The residual  component  of  the  full  deformation  does  not  exceed  3%  and  5%  when  determined  by different methods and practically does not depend on the knitting parameters. Scientific  novelty.  The  influence  of  technological  parameters  of  knitting  on  the  deformation
properties  of  elastic  warp-knitted  narrow  fabric,  that  are  intended  for  medical  and  prophylactic products manufacturing, has been established. Practical  value.  The  research  results  are  extending  the  knowledge  about  the  influence  of technological parameters of knitting (density of weft in-layed yarn and pre-elongation of elastomeric yarn) on the deformation properties of the elastic warp knitted fabric, that provides the required quality of finished products. It does possible to create the desired properties of the fabric at the design stage. The recommendations for test methods choosing have been formulated on the analysis of results obtained by the different methods of stretch properties testing.
Downloads
Download data is not yet available.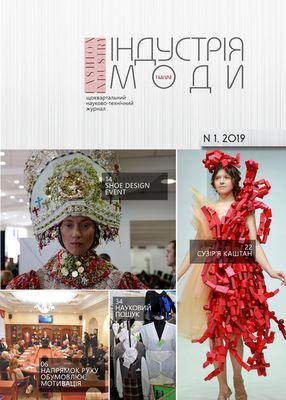 Downloads
How to Cite
Кизимчук, О. П., Мельник, Л. М., Токовенко, А. В., & Обухевич, С. А. (2019). THE METHODS COMPARISON FOR DETERMINING THE EXTENSIBILITY OF ELASTIC KNITTED MATERIAL. Fashion Industry, (1), 48–54. https://doi.org/10.30857/2706-5898.2019.1.3