WEAR COMFORT EVALUATION OF TEXTILE FROM DIFFERENT TYPES OF RAW MATERIALS USING AN INTEGRATED APPROACH
Abstract
The purpose of this work is evaluation of the wear comfort of different types of textile using an integrated approach, based on a combination of experimental studies of comfort indicators and diagnosis of the impact of materials on the functional state of the human body.
To achieve this goal used experimental methods for studying the mechanical and physical properties of textile materials, the principles of comparative analysis, statistical method of data processing. Energy information impact on the human body was determined using the method of bioresonance energy wave diagnostics.
Studies have shown that experimentally determined level of wear comfort of textile does not always correspond with body's response to their use. If the best comfort values were set for linen and silk, then most positive effect on the body has linen and wool. Silk is characterized by a high level of negative impact. This once again confirms that comfort is a complex indicator and can be assessed only taking into account the subjective feelings of the person. In general, the best results were found for the sample of linen material: it is characterized by high comfort values in combination with a low level of negative impact and a fairly high level of positive impact. The proposed method of wear comfort evaluation makes it possible to take into account the body's response to the effects of certain types of textile materials.
The scientific novelty consists in comprehensive approach to evaluation of the wear comfort, which includes a combination of objective and subjective techniques.
The practical value is confirmed by the provided recommendations for the confection of textile materials for the manufacture of summer clothes based on their wear comfort.
Downloads
Download data is not yet available.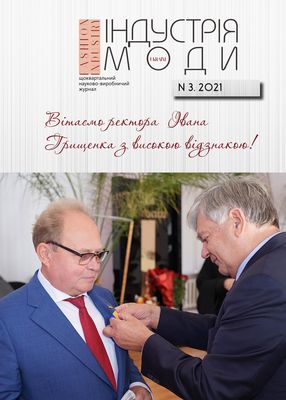 Downloads
How to Cite
Садретдінова, Н. В., & Яценко, М. В. (2022). WEAR COMFORT EVALUATION OF TEXTILE FROM DIFFERENT TYPES OF RAW MATERIALS USING AN INTEGRATED APPROACH. Fashion Industry, (3), 26–35. https://doi.org/10.30857/2706-5898.2021.3.1
Section
Scientific research
License
Copyright (c) 2022 Fashion Industry
This work is licensed under a Creative Commons Attribution-NonCommercial-NoDerivatives 4.0 International License.