UKRAINIAN AESTHETICS IN THE DESIGN OF MODERN JEWELRY PRODUCTS
Keywords:
symbols, embroidery, ethnic style, jewelry
Abstract
Purpose. To analyze traditional jewelry, which is a component of the national costume of Ukraine and compare it with modern jewelry in ethnic style, to determine the influence of traditional Ukrainian symbols on modern jewelry.
Methodology. The research is conditioned by a comprehensive study of the subject and covers: methods of analysis, synthesis and the method of system analysis.
Results. An analysis of literary sources on the topic of traditional jewelry was carried out, a description of modern Ukrainian jewelry brands and their collections in ethnic style was provided. It was determined that Ukrainian designers actively use traditional symbols, making jewelry as similar as possible to those worn by Ukrainians, or their modern interpretation, in accordance with the latest trends, but with national motifs, and also produce jewelry with state symbols of Ukraine. The most common symbols used in the production of modern Ukrainian jewelry are systematized and described.
Scientific novelty. Based on the analysis of modern jewelry brands, three main groups of jewelry in ethnic style are distinguished: as close as possible to traditional, interpreted and patriotic jewelry.
The practical significance. The materials of the article can be used in the study of Ukrainian jewelry, in the training of jewelry design specialists, and in the writing of scientific papers.
Downloads
Download data is not yet available.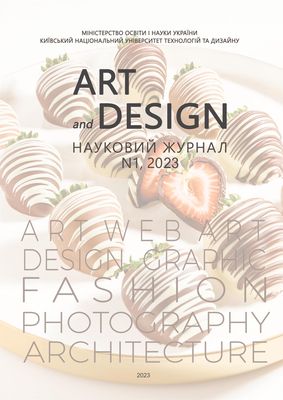 How to Cite
Пашкевич, К. Л., Герасименко, О. Д., Єжова, О. В., Шмагайло, Р. Т., & Люклян, Н. Р. (2023). UKRAINIAN AESTHETICS IN THE DESIGN OF MODERN JEWELRY PRODUCTS. Art and Design, (1), 143–156. https://doi.org/10.30857/2617-0272.2023.1.14