RESEARCH OF FORM, STRUCTURE AND COLOUR OF SUIT OF THE 50's OF XX CENTURY, WITH A VIEW TO THE DEVELOPMENT OF COLLECTION OF WOMEN'S CLOTHING
Keywords:
style, fashion, composition signs, tectonic structure, basic forms, modern collection
Abstract
Investigation of the tectonic structure and artistic-compositional features of the stylistics and forms of the costume of the 50's of XX century, to introduce the results of analysis in the design process of a modern collection of women's clothing. Modern methods of historiographic, literary-analytical, system-structural and morphological analysis were used in the work, as well as studying the opinions of consumers by means of questioning and statistical processing of research results. The relevance of the choice of the research topic and the object of research is analyzed and justified. A series of research methods has been used to solve scientific problems. Based on the research results, a draft of a collection of modern women's clothing. The methods of system-structural analysis of forms, structure and proportional-rhythmic construction of original models of the selected period were used at first for scientific analysis of the stylistic features of the construction of the costume of the 50's of XX century. The leading tectonic characteristics of the costume forms, the features of the artistic and compositional elements in the decoration of clothes, the formation of style and the image of the corresponding historical period are determined and structured. From the scientific point of view, the process of design-designing of modern costume forms has been adjusted. Because of scientific research, it is certain that the original costume forms of the 50's of XX century represent an actual creative source for constructing the process of associative design of modern costume forms, the formation of original ideas and a new aesthetics in the creation of modern women's clothing. Studies of the tectonic structure of the costume of the selected historical period made it possible to create a collection of a female costume with new original forms, types of finishes and stylistic characteristics. The collection was made in the material and was presented at the International competition "Pechersky chestnuts" (Ukraine, KNUTD).
Downloads
Download data is not yet available.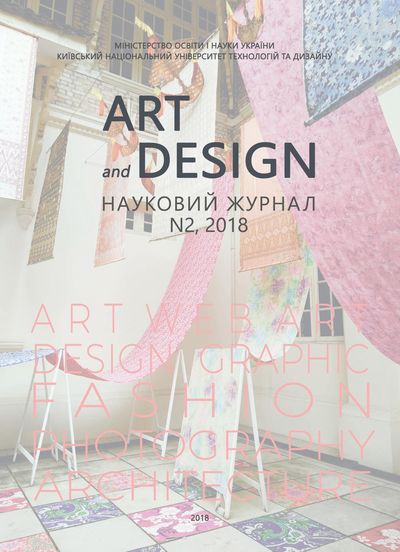 Downloads
How to Cite
Ніколаєва, Т. В., Давиденко, І. В., & Ляпкало, І. О. (2018). RESEARCH OF FORM, STRUCTURE AND COLOUR OF SUIT OF THE 50's OF XX CENTURY, WITH A VIEW TO THE DEVELOPMENT OF COLLECTION OF WOMEN'S CLOTHING. Art and Design, (2), 59–65. https://doi.org/10.30857/2617-0272.2018.2.7